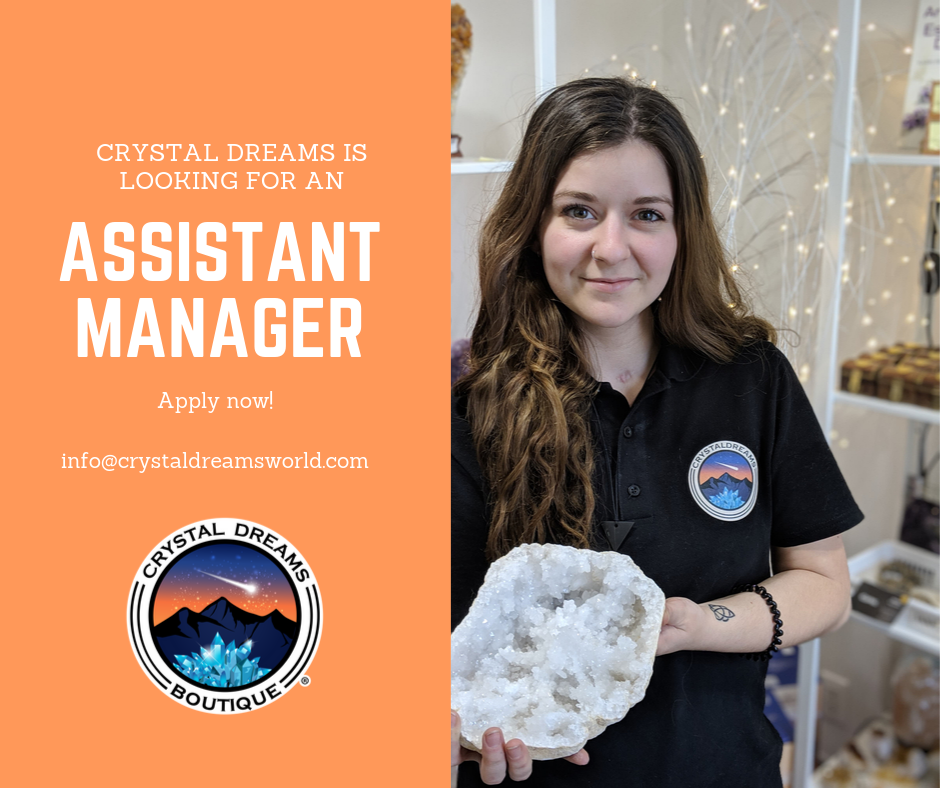 Job Description
Crystal Dreams is currently looking for an Assistant Manager for its two stores located in Pierrefonds and downtown Montreal. The assistant manager occupies a leading role in the shop. He must lead, with the manage, his team towards the accomplishment of the objectives demanded by his superiors thanks to his aptitudes and his positive attitude. The assistant manager is The right arm of the managers.
The role of the assistant manager:
Customer Service;
Proceed with invoicing and ensure customer satisfaction (Transactions at the caisse)
Participate in the reception of orders, the labeling of products and their marketing as well as all other activities that make the store welcoming and inviting;
Integrate and train new employees by teaching them the necessary knowledge in sales and customer service. He must explain to them the various tasks related to the coveted position;
Coaching employees by developing strategies to complement their overall performance requirements;
Serving customers in an exceptional way and giving them the best possible information related to the products in the store's inventory;
Ensure that each employee knows all the tasks to be done in the two shops by explaining and setting an example;
The assistant manager is the team leader when the manager is absent and must know how to make the right decisions at the right time thanks to his sense of leadership and his sense of entrepreneurship.
Prepare the work schedule of employees in advance;
Prepare payrolls for employees
Deposit cash drawers in both shops;
Required profile
Sales experience 1 to 2 years
Experience in personnel management: 1 year
Ability for customer service and sales
Strong collaborative spirit and unifying leadership  (have a minimum of pedagogical abilities)
A flexible person available to work weekdays and / or weekends according to schedules
Demonstrates a passion for the crystal and well-being world
Preferably have already done payrolls, schedules and deposits in the past
Advantages
A competitive salary
An advantageous discount on the merchandise
Opportunities of growth in the company
Young, dynamic and rewarding work environment
Uniform provided
Work Trips: Quebec City, Ottawa, Toronto
Additional information: Only successful candidates will be interviewed. * The masculine gender is used in this ad to lighten the reading.
Job Type: Full Time / Part Time (4 to 5 days per week)
Language: Bilingualism required: French and English
Salary: Between $ 12.50 – $ 15 / hour
During the training period to learn the basics of the operations and tasks of the customer service assistants, the salary is $ 12.50
Then, the salary will increase to $ 13.00 once the assistant manager and autonomous able to open and close the shop alone
Once Team Lead training begins, salary increases to $ 13.25 ends at $ 13.50
Thereafter, salary increases to $ 14 when supervisor training is complete
Then finally the position of Assistant Manager is paid at $ 15 / h (It will take about 2 to 3 months before completing the complete training, since the
Assistant Manager must be familiar with all the functions / positions of the shop.
Places:
3803 Rue Saint-Denis, Montreal, Qc, H2W 2M4
&
15781 boul. Pierrefonds, Montreal, Qc, H9H 3X6
Send us your CV at: info@crystaldreamsworld.com