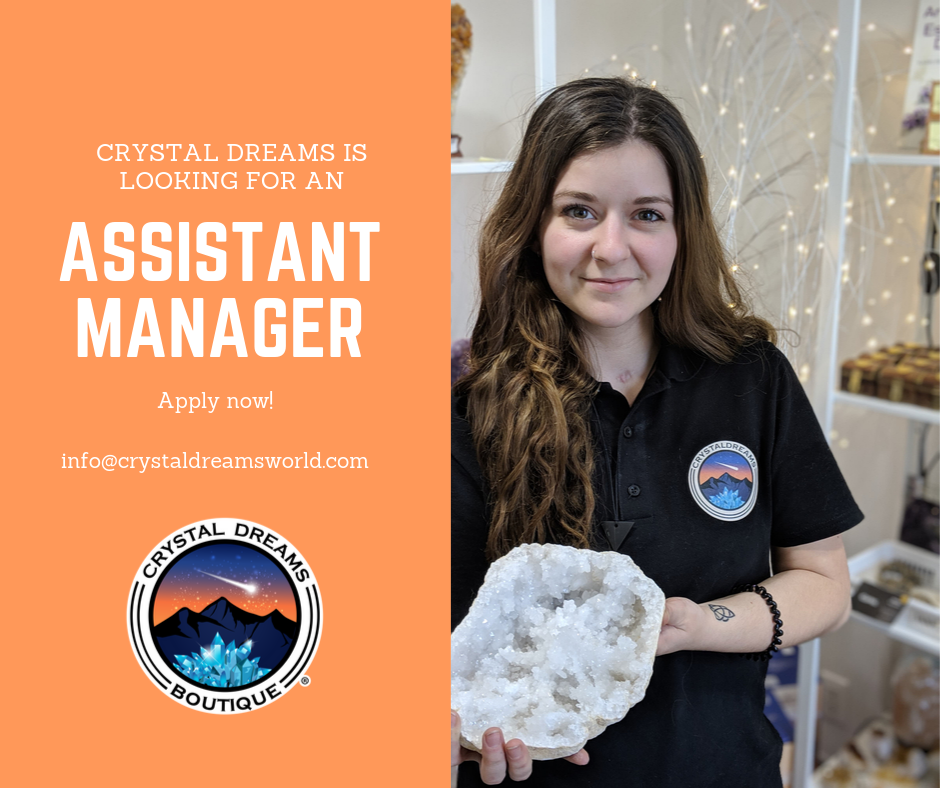 WHY CRYSTAL DREAMS?
Crystal Dreams is one of the most popular Crystal Stores in Montreal with two retail locations in Montreal. As a Crystal Dreamer, you'll have the unique opportunity to become part of a movement based on mindfulness, spirituality, intuition, crystals, reconnecting with nature and building a positive community.
Crystal Dreams Highlights :
Crystal Dreams is one of the largest retailers of stones, jewelry and natural products in Canada. We are happy to welcome customers in our two retail stores in Montreal and a third store opening soon!
Young and dynamic team! As this company grows, it gives its team members the opportunity to grow as well.
Crystal Dreams is the organizer of the Metaphysical & Spiritual Shows of Canada which are taking place in many cities such as Montreal, Toronto, Quebec City, and Ottawa. Each one of these events brings an attendance of around 12,000 visitors per weekend with over 120 exhibitors per event.
The company has hosted dozens of seminars on personal development and crystals for hundreds of attendants per event.
The CEOs vision of Crystal Dreams is to build one of the largest Crystal Parks in Canada known as "Crystals Dreams World" which will begin its development and planning in 2021-2022. This will be the first spiritual sanctuary to celebrate spirituality in Canada.
Crystal Dreams is about giving back to the community, encouraging people to connect with their intuition and raising awareness about wellbeing.
Crystal Dreams has become a role model in its field thanks to its innovation in E-commerce. This international Crystal Store is a major influencer in social media with over 150,000 followers on various platforms and more people joining every day.
This opportunity will allow you to be involved and learn useful skills that will help you develop your professional career. Take advantage of this once in a lifetime experience! Your journey at Crystal Dreams will allow you to take on new challenges, adventures, and take part in a rewarding job. If there is something Crystal Dreams has taught us, is that everything is possible and "Change" is the name of the game! The possibilities are literally endless and if we all work together, nothing will be impossible to achieve. So dream big, persist and act as if everything is possible!
Crystal Dreams is now offering you the unique opportunity to grow and expand your horizons. Welcome aboard this exciting journey and join us in this chapter known as "The road to Crystal Dreams world!"
Job Description
Crystal Dreams is currently seeking Supervisors and Assistant Managers for its Montreal stores. The ideal candidate is friendly, energetic, smiles often, detail oriented, comfortable with technology, has management experience, is comfortable working under pressure/stress, has a positive attitude when it comes to serving customers and working as a team.
An Assistant Manager's job is to provide the best customer service possible, maximize productivity, supervise the team and help the stores run smoothly by taking on certain tasks, such as:
Provide an excellent customer service
Operate a cash register system (POS) with debit / credit cards
Achieve some computer tasks on a Mac OS operating system
Demonstrate an interest, a passion for our products
Ability to solve problems and to answer the clients requests
Packing products for online orders
Maintain the store clean and organized
Tagging and facing in the store
Receiving shipments of stones and other products
We are looking for:
Sales and customer service experience: 1 year minimum
Team Management experience: 1 year minimum
Be comfortable using a computer: Gmail, Google Sheets, Google Drive, Word, Excel, Mac OS and Social Medias
Cash register Experience: 1 year minimum
Bilingual (French and English) *** Mandatory
Excellent learning ability
Flexibility, punctuality, respect the schedule
Ability to use a cash register system / POS
Advantages:
An advantageous employee discount on the merchandise
Opportunities of growth and career in the company
Young, dynamic, technology oriented and rewarding work environment
Pleasant work environment, coffee, tea & uniform provided

Traveling with our team for corporate events throughout Canada and USA
If you are interested in being part of the Crystal Dreams Team, please send us your CV, availabilities and references to : info@crystaldreamsworld.com