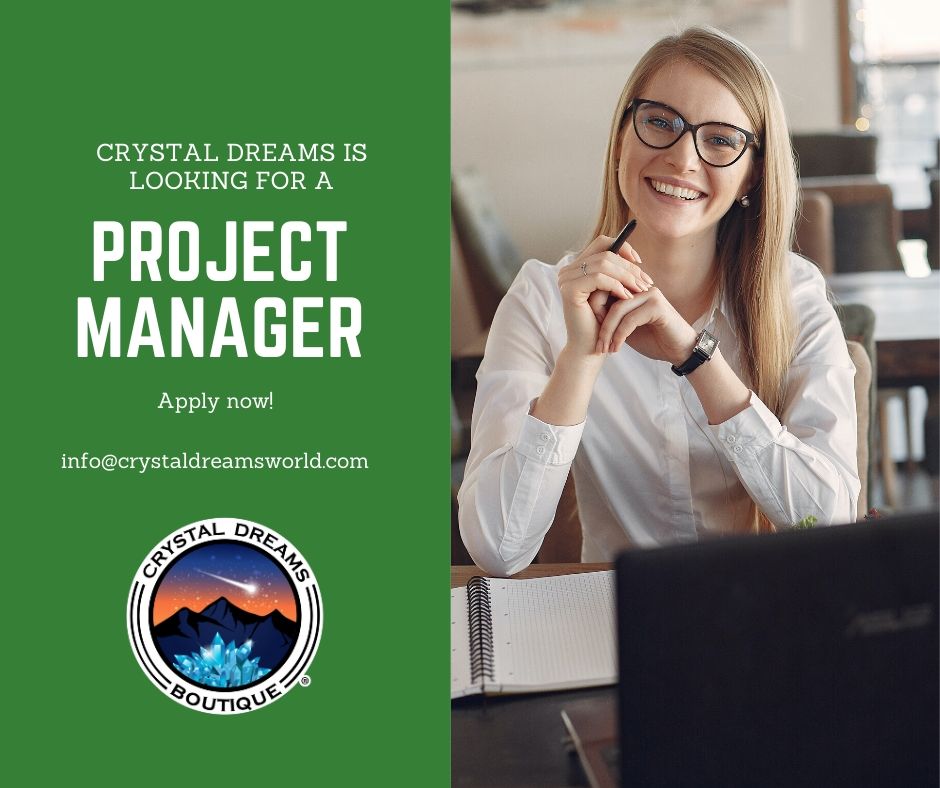 WHAT IS CRYSTAL DREAMS?
Company Overview
Crystal Dreams is not only the #1 Crystal Store in Montreal since 2014, it's mainly a movement. As a member of the team, you now have the unique opportunity of becoming part of this profound dream based on helping others by spreading awareness about spirituality, intuition, reconnecting with nature & building a positive spiritual community in Canada.
Some of the great accomplishments of this movement so far are:
The delivery of over 15 seminars on personal development & crystals. Multiple speeches performed in front of more than 140 people per event.
Crystal Dreams is the organizer and manager of the prestigious Metaphysical & Spiritual Shows of Canada which are taking place in many cities such as Montreal, Toronto, Quebec City, Ottawa, etc & soon in the USA! Each one of these events brings an attendance of around 10,000 visitors per weekend with over 100 exhibitors per event and this numbers keeps rising every year, making it by far one of the most popular trade shows of its kind.
Crystal Dreams is currently on it's way to becoming one the largest wholesalers & retailers of crystals, jewelry, natural products & other holistic items in Canada.
The most exciting part is that as this company grows it gives others the opportunity to grow with it while helping people to awaken to their highest potential. One of the exciting parts of this vision is that Crystal Dreams will soon give birth to the largest Crystal Park in Canada known as "Crystals Dreams World" which will begin its development & planning in 2019-2020. This will be the first spiritual temple and sanctuary of its kind for the celebration of spirituality.
Crystal Dream is not about the money but rather about giving back to the community, spreading the message & raising awareness about spirituality.
Today, this company's embracement of technology and I.T orientation has allowed it to become a role model in the field of spirituality & innovation. It is estimated that it will soon become a major influencer & there are multiple projects being put into place to make this happen. It's popularity is also on the rise in the social medias with over 150,000 followers in various platforms & more people joining the movement every day. As the company grows, so will the opportunity for you to get more involved & learn useful skills that will help you develop your professional career! Many of the projects in Crystal Dreams are considered university level, so take advantage of this once in a lifetime experience! Your journey at Crystal Dreams will allow you to take on new challenges, adventures, take part in a rewarding job, travel with the shows, meet wise & wonderful people, etc. If there is something Crystal Dreams has taught us, is that everything is possible and "Change" is the name of the game! The possibilities are literally endless & If we all work together nothing will be impossible to achieve . So dream big, persist, stay hungry & act as if everything is possible! Because it is! This company is now offering you the unique opportunity to grow with it & expand your horizons. Welcome aboard this exciting journey & join us in this chapter known as "The road to Crystal Dreams world"!
Job Description
Crystal Dreams is currently looking for an experimented Project Manager for its 2 Montreal stores. The ideal has a Bachelor's Degree in Business Administration or Marketing, has experience as a Project Manager, has a positive attitude and great leadership skills. A Project Manager's job is to ensure that all fields of the business are running smoothly by getting the right people involved with leadership:
Work directly in collaboration with the CEO of Crystal Dreams in order to:
Apply & create processes for improving methodology and to eliminate problems, remove waste, inefficiency, and improve working conditions to provide a better response to customers' needs.
Combine tools, methods and principles of Lean and Six Sigma into one popular and powerful methodology for improving your organization's operations.
Collect management requirements, transform them into projects pipeline, and deliver various initiatives from inception to completion
Assist in the definition of project scope and objectives, involving all relevant stakeholders and ensuring technical and financial feasibility
Produce and maintain dashboards, plans and documentation to support project efforts, communicate status and manage stakeholder expectations.
Schedule and facilitate various meetings, identify action items and address blockers to keep projects on track
Improve process inputs, streamline workflows and project management tools.
Manage and report continuous progress on multiple analyses and metrics
Track, analyze and communicate project risks and opportunities
Required Profile
Project Management Experience: 1 year minimum
Ability to multi-task
Bilingual (French and English) *** Mandatory
Bachelor's in related field, or equivalent experience
Flexibility, punctuality, respect the schedule
Teamwork ability
Organizational skills and ability to work independently
Excellent client-facing, and internal written, and verbal communication skills
Experience in planning and schedule management
Communication and presentation skills to work effectively with different individuals of varying skill sets, areas of expertise, communication styles and organizational hierarchies
Excellent analytical view on maximizing productivity, with a focus on business value and outcomes
Keen to ask questions and understand business and product objectives.
Intrinsically curious and motivated to know how things work and self-educate when necessary.
Strong proficiency with Microsoft Office suite of tools (Word, Excel and PowerPoint) Google Drive
Advantages
An advantageous employee discount on the merchandise
Opportunities of growth and carrer in the company
Young, dynamic, technology oriented and rewarding work environment
Pleasant work environment, coffee
Traveling with our team for corporate events throughout Canada and USA
Additional information: Only successful candidates will be interviewed. * The masculine gender is used in this ad to lighten the reading.
Job Type: Full-time, Permanent (5 days / week of availability mandatory***)
Salary: $ 20 – 25/ hour
Location:
3803 Rue Saint-Denis, Montreal, Qc, H2W 2M4
15781 Pierrefonds Boulevard, Pierrefonds, Qc, H9H 3X6