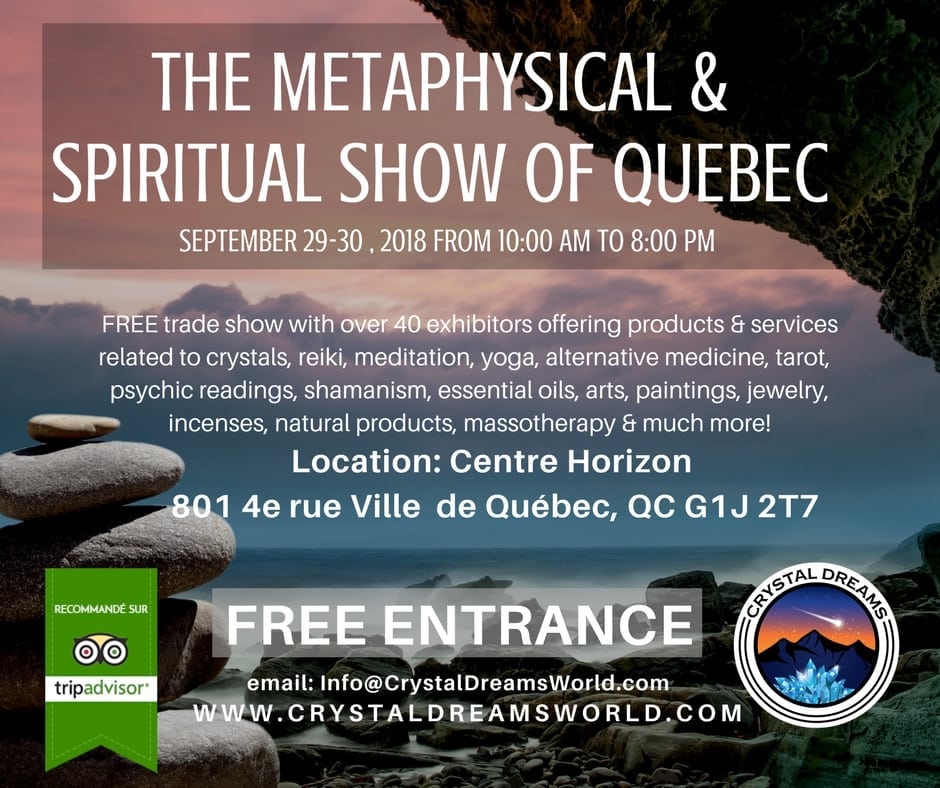 The first annual metaphysical festival of Quebec welcomes everyone who is interested in learning more about spirituality and the metaphysical, to attend to their 1st edition on September 29 & 30, 2018 from 10:00 am to 8:00 pm at the prestigious Horizon Centre located in Quebec City, Canada. This trade show will have more than 40 exhibitors! The Metaphysical and Spiritual Show of Quebec will be one of the first trade shows of its kind in this city!
The Metaphysical and Spiritual Show of Quebec will be one of the first of many spiritual gatherings in the city with an estimated attendance of over 3,000 people. The fair will be held at the Horizon Centre, which is easily accessible by the highway. Entrance is completely FREE and everyone is welcome to attend this unique event. Here is a brief summary of the important information regarding this event:
Entrance:

There is no admission fee, no need to reserve and entrance is completely FREE. Everyone is welcomed to attend this unique fair.
Location:
Centre Horizon, 801 4e Rue, Québec City, QC G1J 2T7
Date & Time:
September 29-30, 2018 From 10:00 AM to 8:00 PM
This is a FREE public event that welcomes all the community of Quebec City. In this trade show you will find products, services, and information regarding gemstones, crystals, holistic health expos, essential oils, souvenirs, jewelry, arts & crafts, spiritual services, natural supplements, naturopaths, homeopaths, incenses, psychic readers, yoga centres, meditation classes, body mind spirit, natural healing, shamans, spiritual healers, nutrition, organics, green lifestyles, wellness, precious stones, sustainability, self reliance, conscious living, metaphysics, alternative medicine, faeries, jewelry, book writers, paranormal investigators, whole foods, gluten free lifestyles, gem dealers, hand made arts & crafts, life coaches, tarot readers, sculptures, furniture, lamps, wood crafts, paintings, spirituality, inspiration, medicinal plants & much more.
For More Information Contact Us:
This spiritual fair in Quebec City is organized & sponsored by our international crystal store; Crystal Dreams, based in Montreal, Canada. Over 3,000 people are expected to attend this unique trade show located for the first time in Quebec City, Quebec. This trade show will be one of the largest gatherings of the spiritual & esoteric community of Quebec City. Feel free to join the events main page on Facebook by clicking HERE. If you wish to be an exhibitor at this spiritual show in Toronto please contact us.